Because of its history, Leamington Spa buildings are known for being meticulously constructed with attention to detail and precision. No matter if you're renovating an old building or constructing a new one, our plasterers in Leamington Spa have the experience and skills to help you succeed.
We offer complete plastering services, including two coat plastering and dot and daub, skimming over plasterex, and all other plastering requirements.
We have many options depending on your property design and style.
Plastering of high quality and smooth paintable finishes starts long before plaster is applied to walls or ceilings. We take every precaution to ensure your property is protected and minimize inconvenience, no matter what type of project it is. We will inspect your property for potential problems and issues. This is also an opportunity for homeowners to speak with us about any questions they may have regarding plastering. Preparation is the most important part of any project. We will cover all flooring and surfaces, and prepare the walls and ceilings for the plastering process.
We can then begin plastering. This will allow us to move quickly through the building, keeping the work moving in a safe and efficient manner.
You don't have to be worried about plastering being messy. Our experts will make sure that your home is clean and tidy while they do the job. This will help to prevent any potential hazards and keep it tidy. We will clean up after the job is done.
Plasterer near Leamington Spa
Our plastering services should be your first call if you are looking for a Plasterer near Leamington Spa.
We have been offering top-quality plastering services in Leamington Spa, and the surrounding areas, for more than 20 years. Leamington Spa's plasterers take great pride in providing the best quality work in Leamington Spa, and the surrounding areas.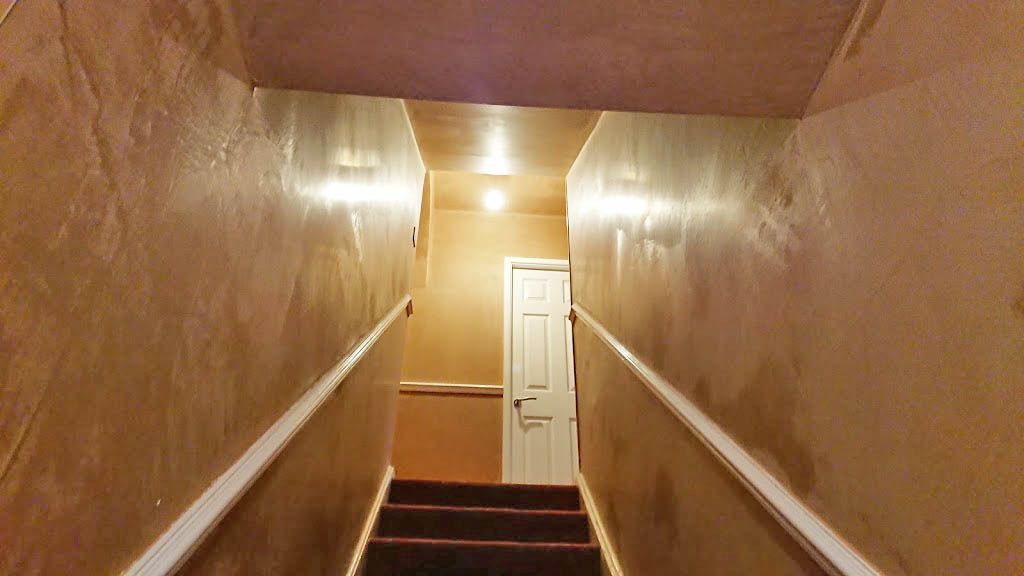 Our Plastering Services include the following:
Kitchen plastering and Bathroom plastering, Commercial plasterers. Bespoke Domestic plastering. Exterior plastering. Call out emergency plasterer. Plaster repairs. Plaster boarding.
General Plasterer Work
We offer exceptional construction and ornamentation plastering. We apply plaster decorative mouldings to the interior or exterior walls or ceilings. This creates a smooth finish that is ready for painting, decorating, or wallpapering.
Re-Skim/Re-skimming
Walls can become cracked and damaged after removing wall paper, replacing walls tiles, or tearing down parts of the wall. Re-skimming walls or ceilings gives them a smooth, flat finish with sharp edges.
Wet Dash
Finishing with 5-13mm of coarse aggregate in the final coat is what gives a wet dash look. This simple process involves the mortar being thrown on the wall and not being threw.
PEBBLE DASH/ROUGH CASTING
Roughcast, also known as pebbledash, is a plaster surface that's used for outside walls. It consists of lime, cement, small gravel, pebbles, shells, and sand. Mix the materials into a slurry, then throw them at the surface using a trowel. It is important to keep the mixture even, without ridges or runs, and free of lumps. Pebbledashing is the addition of stones to the mix. Roughcasting includes the stones.
Modern pebbledash today is not made of pebbles but sharp flint chips. These should be called spa dash or Spar dash.
This spar dash can be made in many different ways, including the Canterbury spar, sharp-dash and sharpstone dash.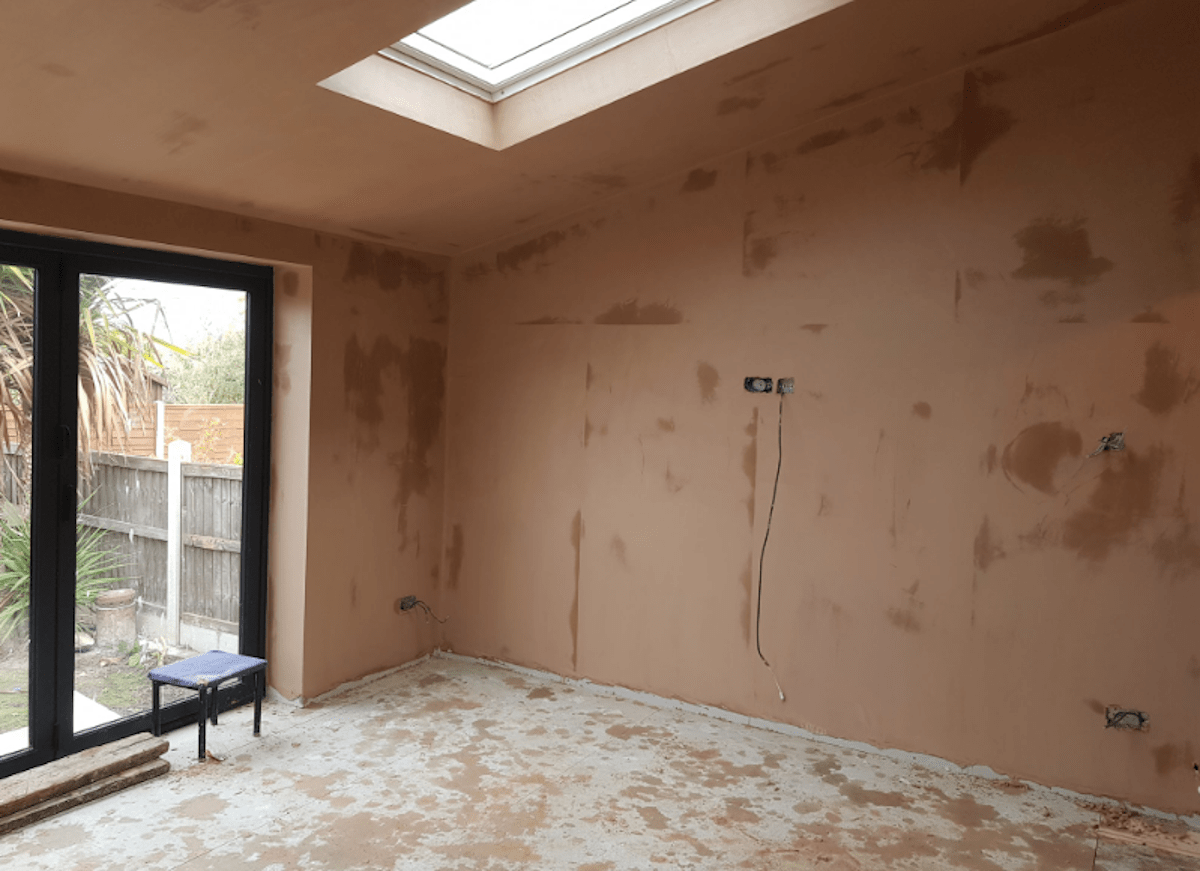 ARTEX COVERING/Removal
As fashion trends change, artex removal and plastering above artex have become more popular. Plastering over artex is possible. First, we make sure there is no flaking or loose artex. We then remove any artex that is clearly visible.
Artex must be covered with a backing coat (bonding) before it can be used. The skim coat is 3mm thick.
To reduce the suction during skimming of the top coat, we recommend applying 2 coats PVA after the bonding coat has dried. This will result in a flat finish.
Our plasterer at Leamington Spa can safely plaster over Artex surfaces.
PLASTER BOARDING
Plaster board is also known as wallboard, sheet rock or gypsum board. It is made from calcium sulfate (gypsum) and extruded between thick sheets or backer paper. This panel is used for interior walls and ceilings.
Mixing plaster with fiber (typically paper or fiberglass), foaming agent, plasticizer and other additives that reduce mildew, flammability and water absorption is what happens. The trademarks Sheetrock and Gyproc are used to sell plaster board in the United Kingdom.
New Ceilings
Plastering services are available in Leamington Spa, and the surrounding areas. Suspended Ceiling, Office Partitioning, Installation of a New Ceiling, Repair of Damaged Ceiling, Maintenance of Existing Ceiling, Design Advice
Sand, Cement and Lime
Used in nterior or exterior rendering
Cement Rendering
Cement rendering refers to the application of a premixed layer made of cement and sand to brick, concrete or stone, or mud. After application, it is often textured, painted, or colored. It's most commonly used for exterior walls, but it can also be used to highlight interior walls.
The rendering process can vary depending on what look you want.
You can create different finishes by using different tools, such as brushes, sponges, and trowels. Traditional rendering involves more than just mixing the right mixture. The real art is the final appearance of the topcoat. Different tradesmen can produce different textures and decorative effects.
These special finishing effects might require a thin finishing "top coat" or a finishing washe.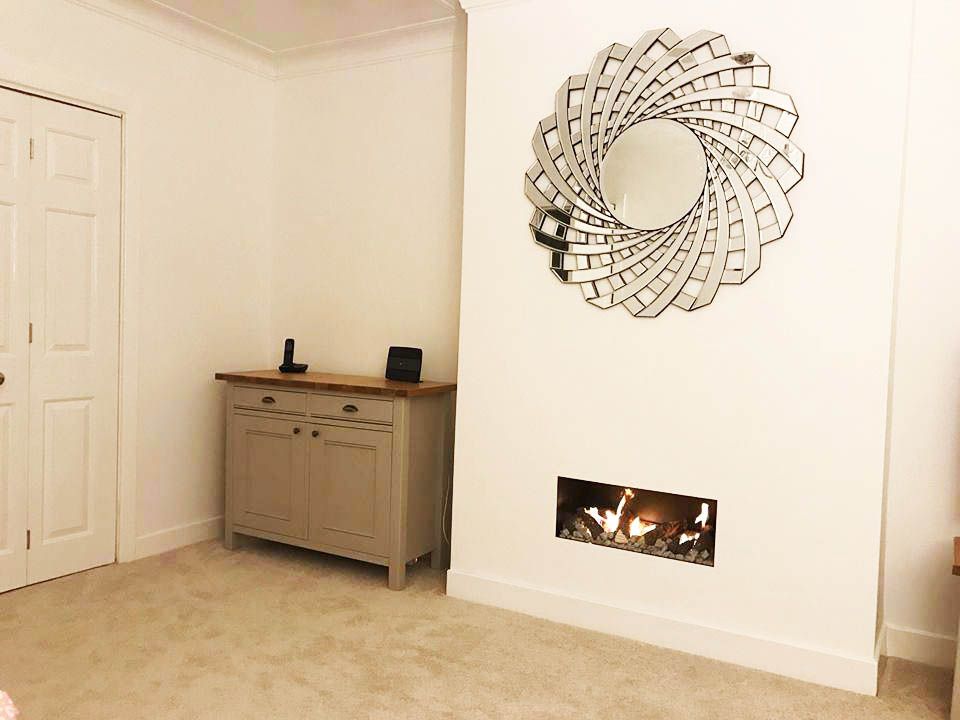 K-Rend/ Weber
We can provide K-rend/ weber in different colours. Exterior plastering can also be provided with beautiful finishing and no need to paint.
Float & Set
We provide float and set plastering in Leamington Spa, and the surrounding areas.
Coving
Decorative coving gives a room an elegant appearance and hides any cracks in walls or ceilings. Leamington Spa Plasterer is able to supply and install a variety of plaster coving.
Coving is a material strip with different profiles that can be used to cover surfaces or as decoration. Coving is typically made of plaster or solid milled wood, but can also be made of plastic or reformed timber.
The "plain" coving is straight-angled at the upper and lower edges. A "sprung" coving is a coving with upper and lower edges that bevel to its rear. This allows mounting between two planes, such as a wall or ceiling, and an open space behind.
Specialized Experience
Our industry expertise includes property renovations, plastering services and painting, decorations, property reconstruction and interior decor.
PLASTER TYPES
Plaster is a type of building material that can be used to coat walls or ceilings with decorative or protective coatings, and also for molding and casting decorative elements.
There are many traditional plaster materials and methods, as well as eco-friendly alternatives. These include, but are not limited to: Gypsum plaster
Lime plasters
Cement plaster
Clay plaster
Other plasters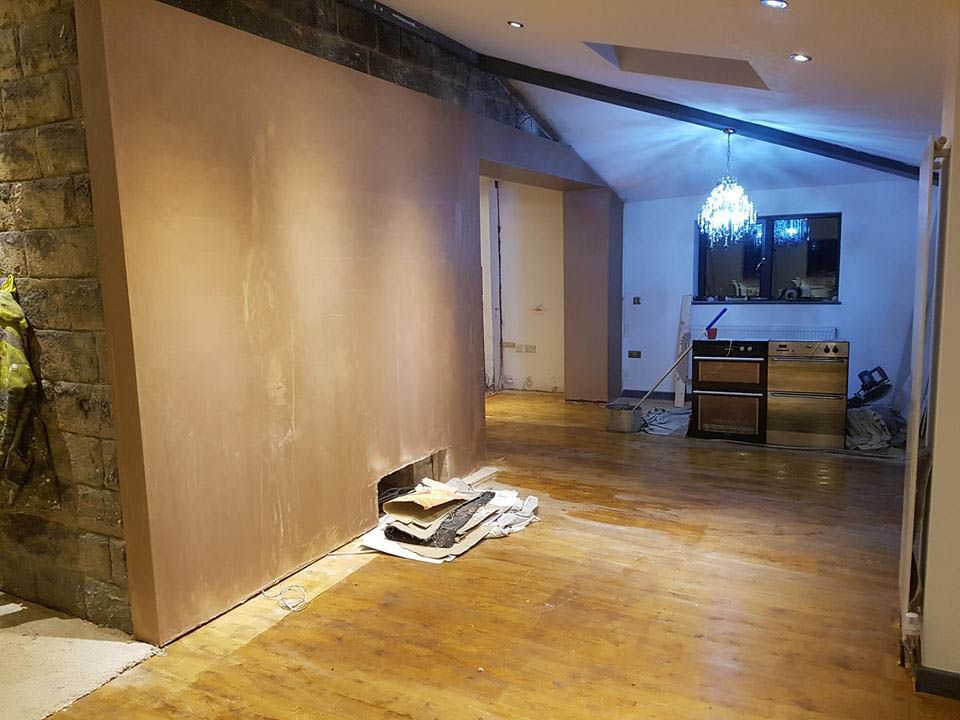 GYPSUM PLASTER
Gypsum plaster (or plaster of Paris) is made by heating gypsum until it reaches 300 degrees F (150 degrees C). The Gypsum plaster is a natural, fire-proof, crystalline mixture of calcium sulphate. It doesn't emit any chemical vapours. The Gypsum plaster finish is very thermally insulating and resistant to moisture and impacts.
Gypsum plaster has a non-breathable structure that is ideal for internal use. There are three types of gypsum plaster that you might encounter: Plaster Of Paris, Flat Venetian Plster, and White Plaster Of Paris Dry Mix.
LIME PLASTER
Lime plaster is made from calcium hydroxide, sand (or other inertfillers). The plaster sets when carbon dioxide is present in the atmosphere. This happens by turning calcium hydroxide (limestone) into calcium carbonate (limestone). The same chemical base is used to make whitewash.
Lime plaster is both breathable and eco-friendly. Lime plaster will be applied in thin layers. Lime plaster needs to be reapplied every 4 to 5 years to retain its strength. Common types of lime plaster include Hydrated Lime Type and QUIKRETE 50-lb Hydroated Lime. Carmeuse Type S Miracle Morta Lok Masons Hydrated Limes are also available
HEAT-RESISTANT PLASTER
The heat-resistant plaster is a type of building material that can be used to coat walls, chimney breasts, and as a fire barrier in ceilings. It is designed to replace traditional gypsum plasters when the temperature rises too much for plaster to stick to the ceiling or wall.
PORTLAND CEMENT PLASTER, STUCCO
Stucco, a breathable cement plaster, is a durable finish material that has a life expectancy of between 40 and 80 years.
It is ideal for dry climates. The three coats of cement plaster are scratch coat, brown coat and finish coat. Water, sand and one of these options are used to make cement plaster: Portland cement, type S hydrated lime or plastic cement. (or masonry cement).
Cement plaster was noted for its durability, strength, hardness and quick setting.
CLAY PLASTER
Clay plaster is a mix of clay, water and sand with plant fibers added for increased tensile strength. Clay plaster is very eco-friendly and breathes well. Clay plaster's finishes are beautiful and very natural.
Acrylic plasters, silicone plasters and silicate plasters are all available. These plasters can be used for many purposes and are flexible and durable.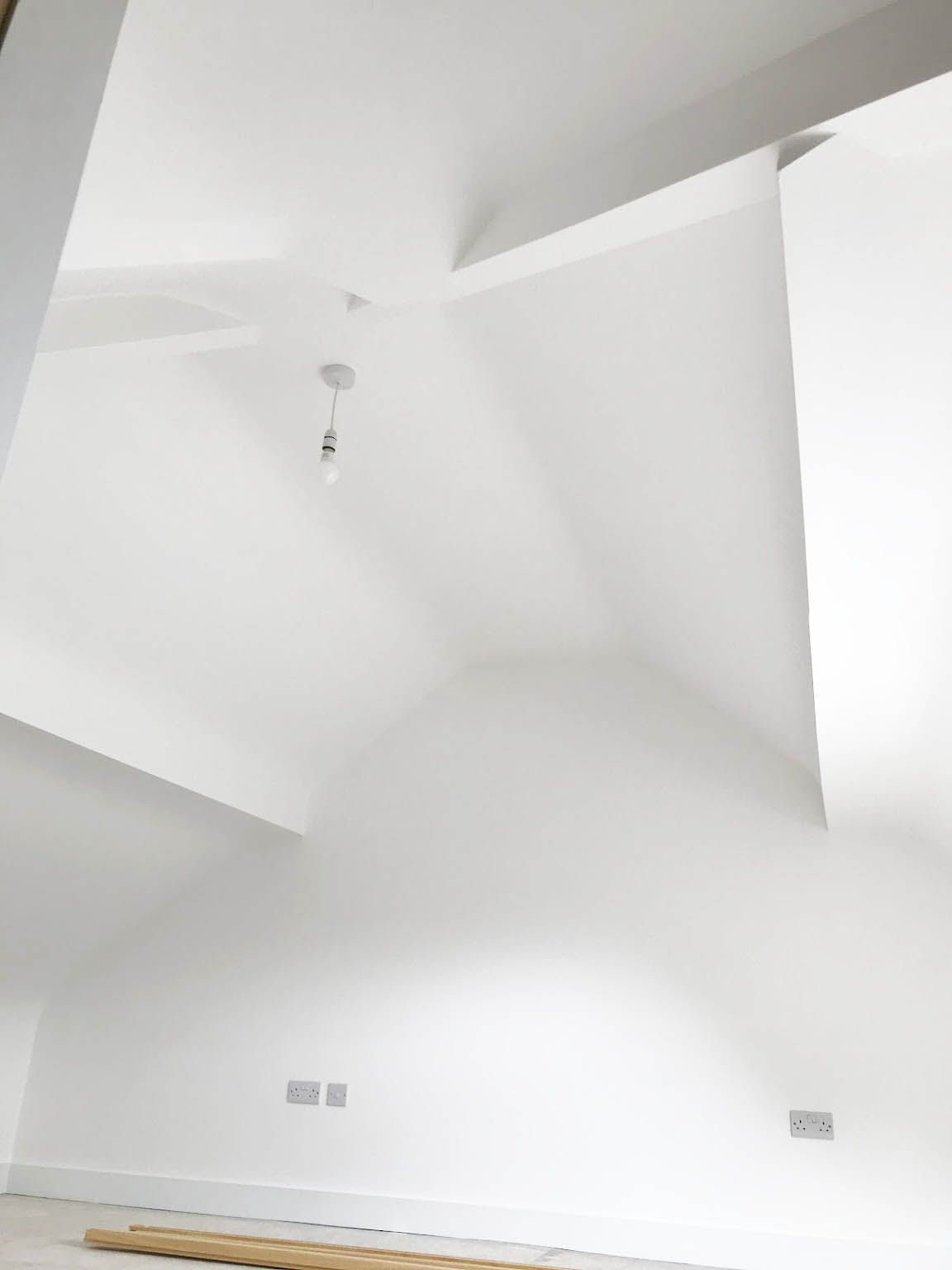 The Areas We Serve For Plastering
Our clients come from Coventry and the surrounding areas: Atherstone, Bedworth and Kenilworth; Leamington Spa and Nuneaton; Rugby, Shipston-on-Stour; Southam, Stratford-upon-Avon and Warwick.
Leamington Spa Plastering Service Pros is proud to offer:
Professional, punctual and experienced residential and commercial plastering services.
Complete plastering and rendering services, including internal, external, damp and sound
Internal plastering and wall plastering, Ceiling plastering, Old Plaster removal, Dry lining, Plasterboarding, Reskimming, Screeding, Artexing, Coving and more
Outdoor rendering includes Wall rendering, Exterior wall insulation, External coating services and Pebble dashing. Stone and brick repointing is also available. Ornamental relief work is also possible
Only the finest materials are used
Every job is completed with eco-friendly and premium materials
You will experience minimal disruption and can work at your convenience
Your premises should be left clean and tidy
All rubbish and other waste is properly and ethically disposed of
Every time you need competitive quotes, we offer quick and free estimates
Clean Communication and Workmanship
Why Plastering Service Pros
Plastering Service Pros is a trusted and integral member of the Leamington Spa community. They have served many commercial and domestic customers over the years and are proud to be Leamington Spa's top choice for plastering.
Get a quote
Call us now for rendering and residential plastering services in the West Midlands. We can arrange a visit or offer a free estimate.
Plastering Services in Leamington Spa & Surrounding Areas
What can our Leamington Spa plasterer do for you?
Our plasterer in Leamington Spa is able to provide professional plastering services, including plaster repairs, plaster removal, rendering or skimming an entire office block.